Toronto, Canada (October 9, 2012) - Mammoth Resources Corp. (TSX-V: MTH) is pleased to report results from the first phase of its field exploration program at the 28,970 hectare Urique Property, located in Chihuahua State, Mexico. The project is surrounded on three sides by Goldcorp's El Sauzal gold mine to the south, Kimber Resources' Monterde property to the north and Paramount Gold and Silver's San Miguel project to the west (refer to Figure 1. Location of Mammoth Resources - Yale Resources Urique Joint Venture, Chihuahua State, Mexico). Work is being supervised by Mammoth Vice President Exploration, Richard Simpson, P. Geo, and is being carried out by Yale Resources geologists. Mammoth is optioning the Urique Project from Yale Resources (for terms of option agreement please refer to the Company's news release dated February 24, 2012, available on the company's website at: www.mammothresources.ca or under the Company's profile on www.sedar.com).

The field exploration program spanned seven months beginning December 2011 and involved prospecting, detailed mapping, trenching, rehabilitation of the underground workings at the el Rosario mine, and sampling. A total of 597 rock samples and 74 geochemical samples were taken from a total of 25 occurrences and/or targets (3 occurrences in the northern portion of the property; "Urique North", and 22 occurrences in the southern portion of the property; "Urique South").

A number of very attractive grades of gold and silver were obtained from the rehabilitated, historic El Rosario mine at Urique South. Assays from this program help to add to and substantiate historical sample results from the underground workings, including the following highlight intersections:
1.7 m grading 9.74 g/t gold and 356.7 gpt silver (16.23 g/t gold equivalent);
1.2 m grading 5.16 g/t gold and 153.8 g/t silver (7.96 g/t gold equivalent);
5.0 m grading 0.78 g/t gold and 257.0 g/t silver (4.45 g/t gold equivalent); and
2.3 m grading 1.69 g/t gold and 153.8 g/t silver (3.37 g/t gold equivalent).
Note: m = metres, g/t = grams per tonne. Gold equivalent is calculated by converting silver grades to a "gold equivalent" based on a 55:1 grams of silver per gram of gold basis as a means to measure total combined precious metal content.

Mammoth President and CEO, Thomas Atkins, commented on these results, stating: "When we plotted the combined gold and silver assay results at El Rosario as a gold equivalent for contouring purposes, we were very intrigued to see the frequency, distribution and grades of gold and silver throughout the underground workings. Looking at these results we see a number of areas coloured red indicating combined grades at, or in excess of five grams per tonne gold equivalent, hosted in possible mineralized shoots. The historic workings cover an approximate 150 metre by 150 metre area in an intensely silicified volcanic host rock not unlike the rocks that host the deposits of our neighbors and which we believe could be indicative of the ground's proximity to a strong hydrothermal source at depth. At present we're looking into interpreting some historical geophysical data for insights into structures and mineralization. We're also investigating the cost and feasibility of drill testing these mineralized shoots below the elevation of the mine workings in a cost efficient manner with the objective of determining the extent to which grade and the dimensions of the gold-silver mineralized structures may be enhanced at depth."

Summary of Urique South 2012 Field Exploration Program

Initial work in the southern portion of the Urique Project concentrated on an approximate four kilometre by four kilometre area surrounding the town of Urique. To date, the most important target identified was the alteration and mineralization observed within the old workings at the El Rosario mine.
The property geology is predominantly underlain Tertiary aged felsic volcaniclastic rocks which overlie a lower volcanic sequence of andesitic flows and breccias, as well as intermediate composition volcano-sedimentary rocks. Granodioritic rocks intrude the lower volcanic sequence in the Urique canyon south of the town of Urique. Small intrusions/dykes were observed but generally not mapped in detail. Several mineralized occurrences are present within the property; they can be described mainly as low to intermediary sulphidation epithermal veins/ breccias structure hosted within the lower volcanic sequence (refer to Figure 2. El Rosario - Target Area Surface Geology and Figure 3. El Rosario Mine - Cross Section A - A').

A total of 22 targets were studied during the first phase field exploration program. The most attractive of these areas is the El Rosario area including the historic mine working at El Rosario. This area consists of narrow north-south to north five degrees east oriented and steeply dipping 70-75 degree northwest veins which could equally be described as sheared veins or breccias. Gold and silver plus minor amounts of copper, lead and zinc are confined within the veins and structures with few anomalous values present in the wall rock (refer to Figure 4. El Rosario Mine - Colour Contour Map of Underground Sampling).

Recent surface mapping highlighted the fact that the veins are not straight but are located in a flexure point of the general north-south regional structural trend near-vertical andesite to dioritic dykse and normal faults which may suggest the presence of discordant structures in the Rosario target area. Flexures along mineralized structures and the intersection between structures are generally excellent target areas where major dilation can occur and create large mineralized ore shoots.

Based on these results it is recommended that further exploration work be undertaken to investigate mineralization at depth. The company is currently looking into interpreting some historical geophysical data for insights into structures and mineralization at depth and is investigating the cost to drill test mineralized shoots at depth in order to determine the extent to which gold-silver mineralized structures and grade may become enhanced at depth. It is expected that the timing of future exploration at El Rosario will be pending the results of the cost and feasibility of drilling and following the company completing its initial mapping and sampling program at its recently acquired Tenoriba precious metal property located 100 kilometres south of Urique (refer to press release dated July 4, 2012), where work consolidating historic information at Tenoriba is concluding with some encouraging revelations on gold mineralization at Tenoriba. The work program at Tenoriba is currently expected to conclude in early 2013.

Note that on July 4, 2012 the company announced that in conjunction with the transaction to option the Tenoriba property the company would issue 950,000 shares of the company to the owners of the property over the option period. This amount was incorrectly stated and the actual amount to be issued is 900,000 shares.

About Mammoth Resources:

Mammoth Resources (TSX-V: MTH) is a mineral exploration company focused on acquiring and defining precious metal resources in Mexico and other attractive mining friendly jurisdictions in the Americas. The Company has an option to acquire 100% of the Urique Property and the Tenoriba Property located in the Sierra Madre Precious Metal Belt in southwestern Chihuahua State, Mexico and continues to seek other option agreements on other properties it deems to host above average potential for economic concentrations of precious metals mineralization.

Qualified Person / Quality Controls:

Richard Simpson, P.Geo.,Vice-President Exploration for Mammoth Resources Corp. is Mammoth's Qualified Person, according to National Instrument 43-101, for the Urique property and is responsible for any technical data mentioned in this news release. Samples were prepared and analyzed by ALS CHEMEX in their facilities in Mexico and Canada, respectively or IPL Inspectorate in their facilities in Mexico and Vancouver, respectively. Samples generally consisted of 1-3 kg of material. Gold analyses were performed by 30 gram fire assay with an AA finish. Silver, copper, lead and zinc were analyzed as part of a multi-element ICP package using an aqua regia digestion. Over limit samples with greater than 1% Cu, Pb and Zn were re-analyzed using ore grade detection limits.

To find out more about Mammoth Resources and to sign up to receive future press releases, please visit the company's website at www.mammothresources.ca

Neither the TSX Venture Exchange nor its Regulation Services Provider (as that term is defined in the policies of the TSX Venture Exchange) accepts responsibility for the adequacy or accuracy of this release.

Forward Looking Information: This news release may contain or refer to forward-looking information. All information other than statements of historical fact that address activities, events or developments that the Company believes, expects or anticipates will or may occur in the future are forward-looking statements; examples include the listing of its shares on a stock exchange and establishing mineral resources. These forward-looking statements are subject to a variety of risks and uncertainties beyond the Company's ability to control or predict that may cause actual events or results to differ materially from those discussed in such forward-looking statements. Any forward-looking statement speaks only as of the date on which it is made and, except as may be required by applicable securities laws, the Company disclaims any intent or obligation to update any forward-looking statement, whether as a result of new information, future events or results or otherwise. Although the Company believes that the assumptions inherent in the forward-looking statements are reasonable, forward-looking statements are not guarantees of future performance and, accordingly, undue reliance should not be placed on these forward-looking statements due to the inherent uncertainty therein.

For further information please contact:

Thomas Atkins
President & CEO
tom@mammothresources.ca

Figure 1.
Location of Mammoth Resources - Yale Resources Urique Joint Venture,
Chihuahua State, Mexico.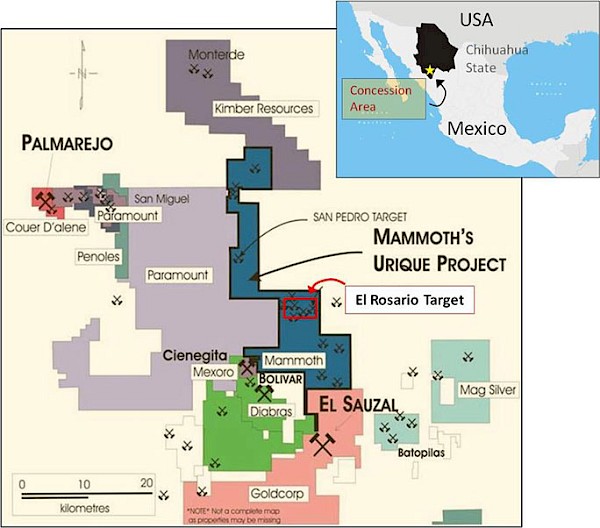 Figure 2.
El Rosario - Target Area Surface Geology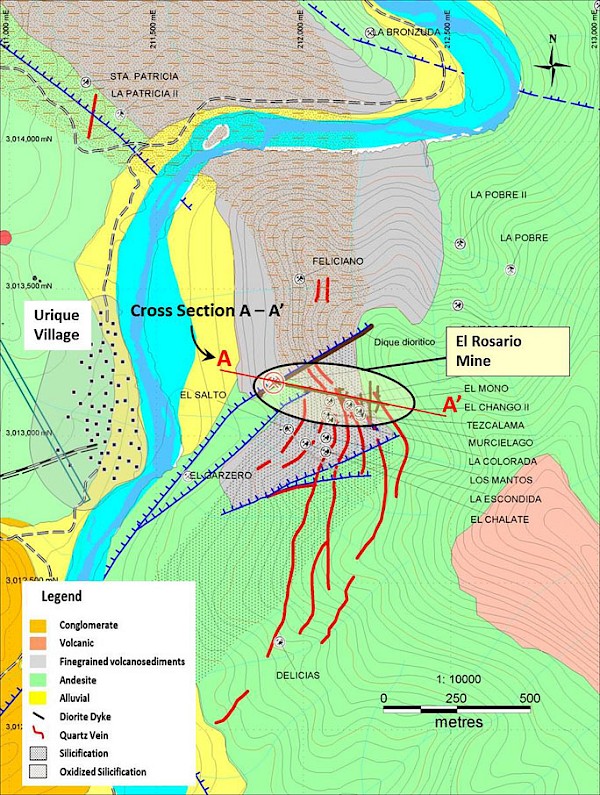 Figure 3.
El Rosario Mine - Cross Section A - A'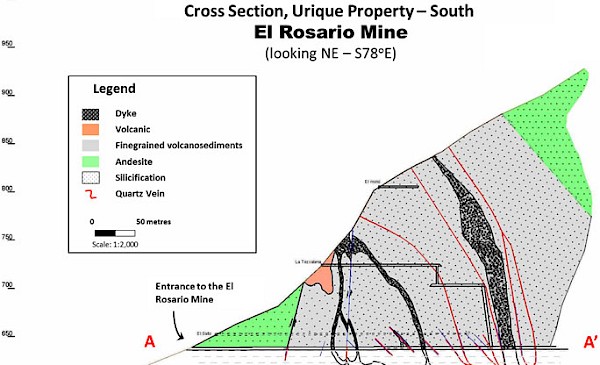 Figure 4.
El Rosario Mine - Colour Contour Map of Underground Sampling
(contouring of gold equivalent assay values)