February 23, 2012 - Vancouver, British Columbia. Mammoth Resources Corp. (TSXV: MTH) ("Mammoth" or the "Company") provides the following update at its Urique property in Mexico. The Company has initiated its exploration work program focused on mapping and sampling at the San Pedro target in Urique North and at Urique South in line with the recommendations as set out in the Urique Project National Instrument 43-101 ("NI 43-101") technical report dated December 14, 2011 filed on SEDAR. The work program is being overseen by Richard Simpson, Mammoth's VP of Exploration.

Urique North:

The Company has received assay results from samples taken at the San Pedro target that identify multiple new zones of gold mineralization and enhance the potential of known zones based on work previously conducted by Yale Resources Ltd.. Anomalous gold values (greater than 0.3 g/t Au) have been identified throughout an area measuring approximately 1,400 metres by 1,000 metres. During this initial work phase, a total of 121 rock chip samples were taken at the entrance of small mine workings and seven hand-dug trenches. To date only 50.6 metres have been sampled along selected trenches as sampling concentrated on quartz veins and the immediate wall rock. A number of trenches require additional sampling, a focus of continuing work currently underway.

Gold and silver at San Pedro occurs in epithermal low sulfidation style mineralization made up of widely spaced quartz veins/minor stock work zones and shear zones associated with felsic dykes hosted in altered volcanic rocks.

Highlights from this sampling are listed below: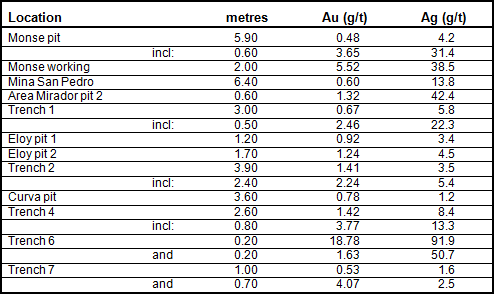 Urique South:

Field work in the southern portion of the property, approximately 9 km southeast of San Pedro, commenced in mid-January with 93 rock samples taken from previously identified targets. In preparation for mapping and sampling, the entrances to various historical mines have been cleared within the 3 km by 2 km Urique Target Area, including the Mina Feliciano, Rosario and Texcalama historical mine workings. At La Patricia, mapping and sampling has been conducted and two hand-dug trenches totaling 138 linear metres have been opened and sampled across the structure and its interpreted extension.

Ongoing work in Urique South will continue to develop a geological database and understanding of the Urique Target Area, which contains greater than 20 historic producing mines, as well as investigate numerous other targets and prospects located in the southern portion of the property that borders Goldcorp's El Sauzal property.

Samples from the San Pedro target were prepared and analyzed by IPL Inspectorate in their facilities in Mexico and Vancouver, respectively. Samples generally consisted of 1-3 kg of material. Gold analyses were performed by 30 gram fire assay with an AA finish. Silver, copper, lead and zinc were analyzed as part of a multi-element ICP package using an aqua regia digestion. Over limit samples with greater than 1% Cu, Pb and Zn were re-analyzed using ore grade detection limits.

Mr. Richard Simpson, P. Geo., Vice-President of Exploration of the Company, is the Qualified Person as defined by NI 43-101, and is responsible for the accuracy of the technical data and information contained in this news release.

About Mammoth Resources Corp.

Mammoth Resources Corp. (TSXV: MTH) is a mineral exploration company focused on acquiring and defining gold and silver resources in Mexico. The Company has an option to acquire 100% of the Urique Project located in the Sierra Madre Precious Metals Belt, in southwestern Chihuahua State and is located immediately north of Goldcorp's El Sauzal gold mine and immediately south of Kimber Resources' Monterde Property.

For further information, please contact:
Mammoth Resources Corp.
Edward Farrauto
Telephone: (604) 687-3992

Neither the TSX Venture Exchange nor its Regulation Services Provider (as that term is defined in the policies of the TSX Venture Exchange) accepts responsibility for the adequacy or accuracy of this release. This news release contains certain forward-looking statements that reflect the current views and/or expectations of Mammoth with respect to its future events including statements with respect to its exploration activities. Such statements are subject to a number of risks, uncertainties and assumptions which may cause actual results to be materially different from those expressed or implied and includes uncertainties regarding implementation of the Company's business strategies and exploration plan and changes in the regulatory environment affecting the Company. The Company assumes no future obligation to update these forward-looking statements except as required by applicable securities laws.