Toronto, Canada (May 23, 2012) - Mammoth Resources Corp. (TSX-V: MTH) ("Mammoth" or the "Company") is pleased to report additional gold and silver results from its ongoing mapping, trenching and sampling program at the 290 square kilometre Urique Project, located in hihuahua State, Mexico. The Urique Project is surrounded on three sides by Goldcorp's El Sauzal gold mine to the south, Kimber Resources' Monterde property to the north and Paramount Gold and Silver's San Miguel project to the west (refer to Figure 1. Location of Mammoth Resources - Yale Resources Urique Joint Venture, Chihuahua State, Mexico). Work is being supervised by Mammoth Vice President Exploration, Richard Simpson, P. Geo, and is being carried out by Yale Resources geologists. Mammoth is optioning the Urique Project from Yale Resources (for terms of option agreement please refer to the Company's news release dated February 24, 2012, available under the Company's profile on www.sedar.com).

Since December 2011 a total of 428 rock samples and 33 heavy mineral concentrates from streams have been taken from the southern half of the Urique Project located within five kilometres of the El Rosario historic workings, which are located just east of the town of Urique, Chihuahua State, Mexico. Results from 121 of these samples were reported on in the Company's news release dated February 23, 2012. Since February an additional 342 samples have been collected for which results have been received for 298 of these samples.

Seven target areas within this southern portion of the Urique Project have been prospected and/or mapped and sampled. Some of the better results of this work include:
1.5 metre chip sample grading 4.77 gpt gold and 49.5 gpt silver in sample 701423;
4.2 metre chip sample grading 1.21 gpt gold and 12.59 gpt silver in samples 701212-14; including
1.4 metre chip sample grading 2.03 gpt gold and 14.4 gpt silver in sample 701212.
A summary of additional anomalous sample results are illustrated in Table 1 - Summary Sample Results, Urique Project South. Approximate sample locations are shown in Figure 2. Sample Location Map, Mammoth Resources - Yale Resources Joint Venture, Urique Project South.

Mammoth President and CEO, Thomas Atkins, commented on these results, stating the following:
"There are certainly some encouraging results coming from the field work conducted to date. As much as we're always encouraged by good precious metal values, we're also at a stage in the project exploration where we're equally interested in mineral assemblages and what the geologists are mapping with regards to evidence of areas of hydrothermal alteration. Such indications can assist in providing good vectors to attractive mineralizing systems at depth, similar to those discovered by the neighbors that surround us, including Goldcorp, Kimber Resources and Paramount Gold and Silver. With the amount of exploration by these neighbors and based on their successes Mammoth has good geological models with which to direct our exploration efforts as we continue to explore the Urique Project concessions."

Initial work in the southern portion of the Urique Project concentrated on an approximate four kilometre by four kilometre area surrounding the town of Urique. To date, the most important target identified is the El Rosario Target Area, which is defined by an approximate 175 metre by 450 metre silica alteration zone on surface with six known widely spread workings that tested the system over a vertical extent of approximately 200 metres. Previous sampling by Yale Resources encountered grades of over 1,000 grams per tonne (g/t) silver over narrow widths (see Yale Resources news releases dated February 6, 2008).

The El Rosario Target Area is centred on the El Rosario working, which is made up of at least 600 metres of underground development that tested five veins - the longest of which was developed along at least 300 metres of strike length.

Recent work at El Rosario has re-interpreted a key geological unit that hosts the veining at the El Rosario level to be a volcano-sedimentary unit that is much more extensive than previously thought. The orientation and size of this volcano-sedimentary unit may have some implications on the controls on the emplacement of gold-silver mineralization.

| Sample Number | Area | Type | Description | Width | Au(g/t) | Ag(g/t) |
| --- | --- | --- | --- | --- | --- | --- |
| 701208+9 | Tezcalama | Chip | Inclined working in argilic altered andesite | 3.10 | 1.01 | 25.9 |
| 701208 | Tezcalama | Chip | Inclined working in argilic altered andesite | 1.50 | 1.62 | 12.5 |
| 701210 | Tezcalama | Chip | Small workings in strongly argilic altered volcanics | 2.00 | 0.54 | 78.7 |
| 701211 | Tezcalama | Chip | Small workings in strongly argilic altered volcanics | 1.70 | 0.25 | 285.1 |
| 701437 | El Rosario | Chip | Quartz vein hosted in hornfels altered sediments | 0.30 | 0.15 | 16.0 |
| 701442 | El Rosario | Chip | Quartz vein with galena and pyrite hosted in horfels | 0.14 | 1.11 | 10.2 |
| 701443 | El Rosario | Chip | Quartz vein with galena and pyrite hosted in horfels | 0.16 | 0.51 | 4.4 |
| 701446 | El Rosario | Chip | Quartz vein at contact between hornfels and dyke | 0.21 | 0.70 | 267.2 |
| 701449 | El Rosario | Chip | Yellowish vein with strong iron oxide staining | 0.30 | 0.12 | 8.3 |
| 701423 | El Rosario | Chip | Quartz vein with hematite hosted in andesite | 1.50 | 4.77 | 49.5 |
| 701212-14 | El Salto | Chip | Exposure in dry waterfall | 4.20 | 1.21 | 12.59 |
| 701212 | El Salto | Chip | Strong silica alteration | 1.40 | 2.03 | 14.4 |
| 701213 | El Salto | Chip | Multiple narrow quartz veins, galena and chalcopyrite | 1.70 | 1.12 | 12.7 |
| 701214 | El Salto | Chip | with pyrite and strong iron oxide staining | 1.10 | 0.32 | 10.1 |
| 701438 | El Salto | Chip | Quartz vein from inside working | grab | 0.29 | 134.3 |
| 701382 | Feliciano | Canal | Grey hornfels with silica alteration and sulphides | 2.00 | 0.16 | 58.2 |
| 701416 | Punto Ext Oeste | Chip | Strongly argilic altered andesite | 2.90 | 0.05 | 117.1 |

Ongoing surface mapping and sampling continue to define the mineralization and alteration on surface as infill sampling has been successful in identifying additional zones of interest.

Mammoth is in the process of shifting its exploration efforts to the northern portion of the concession area around the San Pedro prospect which includes the former producing Sangre de Cristo workings. The Company looks forward to reporting on results from this work in the coming weeks.

About Mammoth Resources:

Mammoth Resources (TZX-V: MTH) is a mineral exploration company focused on acquiring and defining precious metal resources in Mexico and other attractive mining friendly jurisdictions in the Americas. The Company has an option to acquire 100% of the Urique Project located in the Sierra Madre Precious Metal Belt in southwestern Chihuahua State, Mexico and continues to seek other option agreements on properties it deems to host above average potential for economic concentrations of precious metals.

Qualified Person / Quality Controls:

Richard Simpson, P.Geo.,Vice President Exploration for Mammoth Resources Corp. is Mammoth's Qualified Person, according to National Instrument 43-101, for the Urique Project and is responsible for any technical data mentioned in this news release.

Samples from the Urique Project were prepared and analyzed by IPL Inspectorate in their facilities in Mexico and Vancouver, respectively. Samples generally consisted of 1-3 kg of material. Gold analyses were performed by 30 gram fire assay with an AA finish. Silver, copper, lead and zinc were analyzed as part of a multi-element ICP package using an aqua regia digestion. Over limit samples with greater than 1% Cu, Pb and Zn were re-analyzed using ore grade detection limits.

To find out more about Mammoth Resources and to sign up to receive future press releases, please visit the Company's website at www.mammothresources.ca

Forward Looking Information: This news release may contain or refer to forward-looking information. All information other than statements of historical fact that address activities, events or developments that the Company believes, expects or anticipates will or may occur in the future are forward-looking statements; examples include the listing of its shares on a stock exchange and establishing mineral resources. These forward-looking statements are subject to a variety of risks and uncertainties beyond the Company's ability to control or predict that may cause actual events or results to differ materially from those discussed in such forward-looking statements. Any forward-looking statement speaks only as of the date on which it is made and, except as may be required by applicable securities laws, the Company disclaims any intent or obligation to update any forward-looking statement, whether as a result of new information, future events or results or otherwise. Although the Company believes that the assumptions inherent in the forward-looking statements are reasonable, forward-looking statements are not guarantees of future performance and, accordingly, undue reliance should not be placed on these forward-looking statements due to the inherent uncertainty therein.

Neither the TSX Venture Exchange nor its Regulation Services Provider (as that term is defined in the policies of the TSX Venture Exchange) accepts responsibility for the adequacy or accuracy of this release.

For further information please contact:
Thomas Atkins
President & CEO
Tel: (416) 479 0887
tom@mammothresources.ca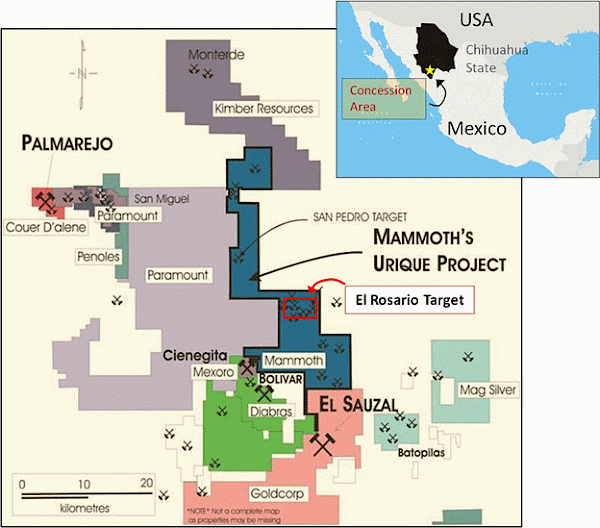 Figure 1. Location of Mammoth Resources - Yale Resources Urique Joint Venture, Chihuahua State, Mexico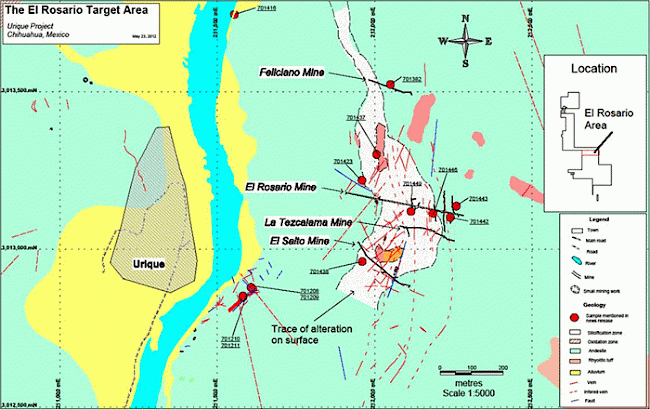 Figure 2. Sample Location Map, Mammoth Resources - Yale Resources Joint Venture, Urique Project South