Toronto, Canada (March 4, 2013) - Mammoth Resources Corp. (TSX-V: MTH) is pleased to report that it continues to receive encouraging gold and silver assay results from samples taken during its third exploration campaign by its geological team exploring the company's Tenoriba Property, located in the prolific Sierra Madre precious metal belt in south western Chihuahua state, Mexico (refer to the company's web site www.mammothresources.ca, for a detailed location map). The best result from this most recent campaign assayed 23.6 grams per tonne (gpt) gold and 62.1 gpt silver, or 24.84 gpt gold equivalent (using a ratio of 50 gpt silver is equivalent to 1.0 gpt gold based on current gold and silver prices). This single highest gold assay was followed by 26 other samples that exceeded more than 2.0 gpt gold equivalent, 45 results that exceeded 1.0 gpt gold and 85 samples that were anomalous exceeding 0.3 gpt gold equivalent, of a total of 219 samples collected. Furthermore, many of these samples came from areas where mapping and sampling of similarly altered felsic volcanics and breccia with numerous locations of vuggy silica occurred as much as one kilometre to the northeast and to the southwest of the area of focused exploration and drilling by the previous optionor, Masuparia Gold Corporation (Masuparia), where Masuparia assayed up to 45 grams per tonne gold (please refer to press release dated July 3, 2012 for summary results of the Masuparia work).

Mammoth President and CEO, Thomas Atkins, commented on these assay results, stating: "I was impressed with the rocks I saw in the field when I visited the project only a month ago, in December. That we received so many samples with anomalous values of gold, and some with very impressive values, is very exciting. Many of these results are coming from areas that extend beyond the attractive results achieved by Masuparia in their 2007 - 2008 program where attractively altered and silicified volcanic rocks returned up to 45 grams per tonne gold. We also expect to receive results shortly from our clay mineral analysis work wherein 44 samples have been sent for XRF analysis to determine the nature and relationship of clay minerals to hydrothermal processes in these rocks. The team are just now returning to the project to continue their field exploration work and will continue to extend their mapping and sampling as they step-out further along the trend sampled and reported in this release and attempt to identify geological controls for this mineralization. I look forward to reporting on this work in the coming weeks."

To date 219 surface rock samples and 7 stream sediments samples have been collected over selected accessible portions of an approximate 12 square kilometre area (an approximate 3 kilometre by 4 kilometre area). In addition, 44 surface and core samples have been selected for Xray Fluorescence analysis to identify the type of clays present in the altered Tertiary felsic volcanic. Identification of these clay alteration types will help to identify the type of mineralization system (high, or possibly low-sulphidation, or porpyritic epithermal-type) present at Tenoriba.

Overall, the field work to date has confirmed Masuparia's previous geological observations, including the presence of a large area extending over numerous square kilometres of altered Tertiary felsic volcanics intruded by diorite, quartz monzonitic and quartz feldspar intrusives. Unsorted volcanic breccias have been observed by the Mammoth team to be much more common throughout the volcanic pile than previously reported.

Summary Table of Assay Results Exceeding 2.0 gpt Gold Equivalent
(a complete table of results assaying above 0.3 gpt gold equivalent are presented in
Table 1 attached to this release)
Sample
Number

Sample
Method

Sample
Interval/Area
(m)

Au
(gpt)

Ag
(gpt)

Au Eq
(gpt)

330002

chip

0.4

23.60

62.1

24.84

330003

chip

0.6

3.74

12.3

3.99

330006

grab

8.36

18.4

8.73

330014

grab

6.17

7.8

6.33

330015

grab

1.0 x 2.5

0.37

235.0

5.07

330028

dump

4.33

2.7

4.38

330043

chip

0.4

1.05

42.9

1.91

330044

chip

1.0

1.16

39.7

1.95

330045

chip

1.5

0.53

51.9

1.57

330046

chip

1.5

0.70

63.0

1.96

330068

chip

1.5

1.04

30.0

1.64

330071

chip

1.5

1.67

68.2

3.03

330108

chip

1.5

0.62

97.0

2.56

330143

grab

0.77

106.0

2.89

330149

grab

5.71

4.0

5.79

330168

grab

1.61

24.2

2.09

330177

chip

1.0

11.90

15.5

12.21

330186

chip

1.7

3.50

44.1

4.38

330187

chip

1.0

5.10

42.3

5.95

330189

chip

1.0

1.75

42.1

2.59

330192

chip

1.0

1.40

29.6

1.99

330197

chip

1.5

3.84

8.6

4.01

330199

chip

1.0

2.16

17.1

2.50

330201

chip

1.0

2.17

11.2

2.39

330203

chip

0.6

1.21

68.5

2.58

330226

chip

1.5

2.12

36.5

2.85

TEN-12

chip

1.5

2.83

36.8

3.57

Mammoth's mapping has identified additional granodioritic and quartz feldspar porphyritic intrusive bodies situated south west of Masuparia's previous mapped area and steeply to moderately dipping north, northeast and northwest striking structural trends which appear to control the higher gold values. Over the Metalito and El Moreno areas (areas of small artisanal exploration and mining to the north and west, respectively of Masuparia's area of focused exploration) and in the Carneritos area (refer to figure 1. Sample Location Map), rocks with the strongest silicification exhibit patchy vuggy silica texture which could be hydrothermal in origin. Numerous areas with a concentration of vuggy silica float are also observed throughout these areas. In addition our work has also identified the presence of minor white clay stringers of apparent hydrothermal origin. In Masuparia's diamond drill core and in two areas (El Moreno and Los Carneritos), situated 0.7 kilometres west and 1.2 kilometres northeast of Masuparia's drill area, respectfully. The presence of Alunite and/or Dickite clay stringers and hydrothermal vuggy silica could be indicative that an epithermal high sulphidation target at Tenoriba such as those hosted at Alamos Gold's Mulatos deposit wherein following commercial production in 2006 the asset is estimated to produce on average of approximately 150,000 ounces of gold per year and still has approximately 2.0 million ounces of gold resource and Gold Corp's El Sauzal deposit which to date has produced approximately 1.5 million ounces of gold.

Mammoth Resources will be at the Cambridge House Vancouver Resource Investment Conference commencing Sunday, January 20 through Monday, January 21st -- Booth 1911. The company will also, along with two other companies be hosting a free luncheon presentation for those interested in learning more about the company and its projects. Please visit our website for luncheon details.

About Mammoth Resources:

Mammoth Resources (TSX-V: MTH) is a mineral exploration company focused on acquiring and defining precious metal resources in Mexico and other attractive mining friendly jurisdictions in the Americas. The Company has an option to acquire 100% each of the Urique and the Tenoriba Properties, both of which are located in the Sierra Madre Precious Metal Belt in southwestern Chihuahua State, Mexico. The company continues to seek other option agreements in the Americas on other properties it deems to host above average potential for economic concentrations of precious metals mineralization.

Qualified Person / Quality Controls:
Richard Simpson, P.Geo., Vice-President Exploration for Mammoth Resources Corp. is Mammoth's Qualified Person, according to National Instrument 43-101, for the Urique property and is responsible for any technical data mentioned in this news release. Samples were prepared and analyzed by ALS CHEMEX in their facilities in Mexico and Canada, respectively or IPL Inspectorate in their facilities in Mexico and Vancouver, respectively. Samples generally consisted of 1-3 kilograms of material. Gold analyses were performed by 30 gram fire assay with an Atomic Absorption finish. Silver, copper, lead and zinc were analyzed as part of a multi-element ICP package using an aqua regia digestion. Over limit samples with greater than one percent copper, lead and zinc were re-analyzed using ore grade detection limits.

To find out more about Mammoth Resources and to sign up to receive future press releases, please visit the company's website at www.mammothresources.ca

Neither the TSX Venture Exchange nor its Regulation Services Provider (as that term is defined in the policies of the TSX Venture Exchange) accepts responsibility for the adequacy or accuracy of this release.

Forward Looking Information: This news release may contain or refer to forward-looking information. All information other than statements of historical fact that address activities, events or developments that the Company believes, expects or anticipates will or may occur in the future are forward-looking statements; examples include the listing of its shares on a stock exchange and establishing mineral resources. These forward-looking statements are subject to a variety of risks and uncertainties beyond the Company's ability to control or predict that may cause actual events or results to differ materially from those discussed in such forward-looking statements. Any forward-looking statement speaks only as of the date on which it is made and, except as may be required by applicable securities laws, the Company disclaims any intent or obligation to update any forward-looking statement, whether as a result of new information, future events or results or otherwise. Although the Company believes that the assumptions inherent in the forward-looking statements are reasonable, forward-looking statements are not guarantees of future performance and, accordingly, undue reliance should not be placed on these forward-looking statements due to the inherent uncertainty therein.

For further information please contact:

Thomas Atkins
President & CEO
tom@mammothresources.ca


Figure 1. Sample Location Map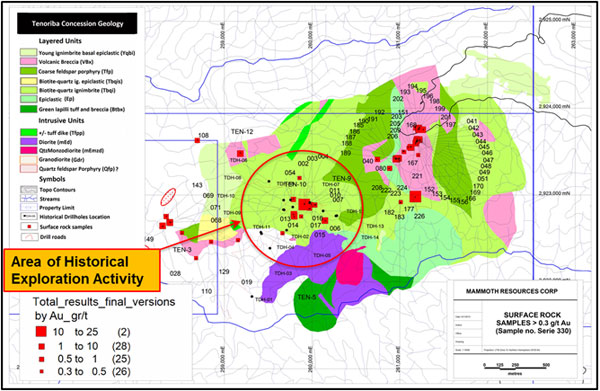 Table 1.
Assay Results
(all assays above 0.3 gpt Gold Equivalent)
Sample
Number

Sample
Method

Sample
Interval/Area
(m)

Au
(gpt)

Ag
(gpt)

Au Eq
(gpt)

330002

chip

0.4

23.60

62.1

24.84

330003

chip

0.6

3.74

12.3

3.99

330004

chip

1.0

0.71

2.8

0.76

330006

grab

8.36

18.4

8.73

330007

chip

0.7

0.58

8.6

0.75

330010

chip

1.6

0.44

3.8

0.52

330011

grab

0.5 x 0.4

0.62

32.7

1.27

330013

grab

1.29

10.9

1.50

330014

grab

6.17

7.8

6.33

330015

grab

1.0 x 2.5

0.37

235.0

5.07

330016

grab

2.0 x 2.0

0.83

10.4

1.04

330017

grab

2.0 x 2.0

0.32

4.6

0.42

330019

chip

1.5

0.46

0.5

0.47

330028

dump

4.33

2.7

4.38

330040

grab

0.7 x 0.7

0.64

10.2

0.85

330041

chip

1.0

0.65

36.2

1.37

330042

chip

0.4

0.80

38.4

1.57

330043

chip

0.4

1.05

42.9

1.91

330044

chip

1.0

1.16

39.7

1.95

330045

chip

1.5

0.53

51.9

1.57

330046

chip

1.5

0.70

63.0

1.96

330047

chip

1.5

0.39

1.8

0.43

330048

chip

1.5

0.62

1.6

0.65

330049

chip

1.5

0.46

2.4

0.51

330051

chip

1.7

0.41

16.4

0.73

330054

chip

1.0

0.42

0.4

0.43

330068

chip

1.5

1.04

30.0

1.64

330069

chip

1.5

0.30

17.3

0.65

330071

chip

1.5

1.67

68.2

3.03

330080

grab

0.57

11.9

0.81

330108

chip

1.5

0.62

97.0

2.56

330110

chip

1.0

0.32

5.6

0.44

330129

chip

1.5

0.35

43.1

1.22

330143

grab

0.77

106.0

2.89

330149

grab

5.71

4.0

5.79

330151

grab

1.04

1.5

1.07

330152

chip

0.9

0.58

33.4

1.25

330153

chip

0.9

0.57

38.9

1.35

330154

chip

1.5

0.56

35.5

1.27

330155

chip

1.5

0.41

35.6

1.12

330156

chip

1.4

0.31

2.6

0.36

330166

chip

1.5

0.55

5.7

0.67

330167

grab

0.85

15.2

1.16

330168

grab

1.61

24.2

2.09

330169

chip

1.0

1.11

10.8

1.33

330170

chip

1.0

1.11

8.0

1.27

330177

chip

1.0

11.90

15.5

12.21

330182

chip

1.5

0.32

2.8

0.37

330183

chip

1.0

0.44

2.9

0.50

330185

chip

1.8

0.58

6.5

0.71

330186

chip

1.7

3.50

44.1

4.38

330187

chip

1.0

5.10

42.3

5.95

330188

chip

1.0

0.86

3.8

0.94

330189

chip

1.0

1.75

42.1

2.59

330190

chip

1.0

0.54

15.6

0.85

330191

chip

1.0

0.41

4.5

0.50

330192

chip

1.0

1.40

29.6

1.99

330193

chip

1.5

0.41

3.5

0.48

330194

chip

1.0

0.85

4.7

0.94

330195

chip

1.0

1.02

7.6

1.17

330196

chip

1.0

1.40

7.3

1.54

330197

chip

1.5

3.84

8.6

4.01

330198

chip

1.2

1.01

9.0

1.19

330199

chip

1.0

2.16

17.1

2.50

330201

chip

1.0

2.17

11.2

2.39

330202

1.0

0.60

2.6

0.65

330203

chip

0.6

1.21

68.5

2.58

330205

chip

1.4

0.32

1.1

0.35

330206

chip

2.0

0.47

1.0

0.49

330208

chip

1.0

0.48

3.5

0.55

330209

chip

2.0

0.49

1.1

0.51

330221

grab

0.39

14.4

0.67

330222

chip

1.0

0.88

39.3

1.67

330223

chip

1.5

0.31

17.2

0.65

330224

chip

1.5

1.10

21.5

1.53

330226

chip

1.5

2.12

36.5

2.85

TEN-10

grab

3.0 x 4.0

0.52

5.0

0.62

TEN-12

chip

1.5

2.83

36.8

3.57

TEN-3

chip

0.8

0.45

1.9

0.48

TEN-5

grab

0.46

5.9

0.58

TEN-9

chip

1.5

0.32

3.8

0.40